This homepage contains the latest version of the webbook as a work in progress, incorporating edits more recent than the Princeton University Press 2008 printed edition, as well as comments by other colleagues and friends.


Current editing version
draft.pdf, not recommended for a general reader
Please use the stable, hyperlinked version of the manuscript whenever you want to refer to a particular part of the text, and send comments, corrections, etc., to dasgroup snail mail.gatech.edu, note the number of the version that you are reading.


xfig source for all birdtracks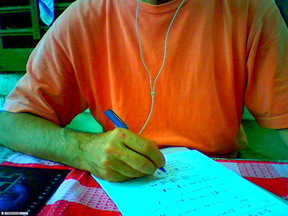 ---
Errata
Tony Kennedy (15 Apr 2013)
My student says there an error on the top line of Table 7.2 on page 68? The diagram is the adjoint "box" for su(n) - there should be a factor of n in front of the first term. If I calculate the adjoint quadratic Casimir CA = 2n (choosing the normalization of the generators such that a = 1) then I can generate the same bubble graph by contracting two quadratic Casimirs or by (adjointly) tracing the (adjoint) box. The first gives me 4n2N and the latter 2?n(N/n)2 + 2(2N + N2) where ?=1 from your table or ?=n from his program, and of course N = n2-1. These two seem agree only for ?=n.

Ruben L Mkrtchyan (12 Mar 2013)
column m=30, Table 21.1 page 236, misprint: should be 36 instead of 56.

Appendix B (17 Mar 2012)
The short argument in Appendix B is too good to be true
---
Major editing suggestions (PUP reviews refer to version 8.3.7)
Hendryk Pfeiffer (25 Feb 2003)
---
Small corrections, of interest only for editing purposes.
---
Edits incorporated
editing instructions (of no interest to readers of the book)
---

svn: $Author: predrag $ --- $Date: 2013-04-24 05:15:35 +0200 (Wed, 24 Apr 2013) $